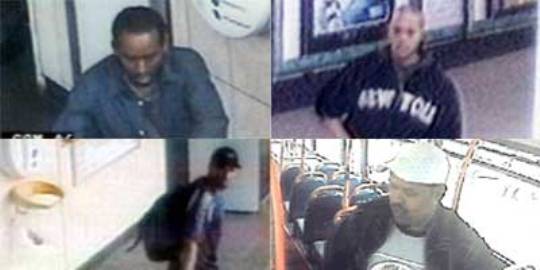 It's very difficult to comment on a situation like that in London, particularly when it is ongoing – even as I type, it would appear that an arrest has been made in Birmingham, and suspicious suitcases are being dealt with there. Above, I've put the CCTV pictures released by the police following yesterday's attempted attacks. I would personally have thought that it can't be too difficult to track down failed suicide bombers – after all, they didn't expect to survive and so presumably wouldn't have put plans in place to get away.
It is clear that these attacks, and attempted attacks, are terrible. We can only hope that fewer will happen in future, though that looks increasingly unlikely. It is important in all of these to keep one's head, and I can only hope that the police haven't lost theirs, with the reports today of a horrific killing by police this morning, which appears to me to have been an over-reaction to a perceived threat. The basic story is that a man under surveillance following the attacks refused to follow police orders, and so was shot five times at close range. I wasn't there, and can't claim to really know what went on, but I do wonder whether the situation was grave enough to use lethal action – and why was it necessary to shoot him five times? Perhaps the police were acting entirely professionally, as one would expect them to, but there are clearly questions which need to be addressed. We can't go killing every Asian man in a big coat who doesn't do as police ask.
In the two weeks since the 7th July attacks, there have been over 250 security alerts, and armed police officers are now stationed at every tube station and patrolling the streets. A second attack can only increase the fear, and it would appear that certainly American tourism is suffering. In other words, the terrorists appear to be succeeding in disrupting our daily lives, and – essentially – terrorising us. At the same time, it's not good enough for the police to simply instruct Londoners to 'get on with their normal life'. You can't instruct someone to not be scared.
As I've said, it's impossible to reflectively comment on an ongoing situation – and it appears that this situation will be ongoing for some considerable time – and I have no solutions to the problems I've mentioned. I'm sure I'll post more about this in future, but for right now, I think I'll leave it there.
This post was filed under: News and Comment.