Hold up! Before you read on, please read this...
This post was published more than 12 years ago
I keep old posts on the site because I often enjoy reading old content on other people's sites. Not everything that is old is bad. It can be interesting to see how views have changed over time: for example, how my strident teenage views have mellowed and matured.
But given the age of this post, please bear in mind:
My views might very well have changed in the 12 years since I wrote this post. I have written some very silly things over the years, many of which I find pretty embarrassing today.
This post might use language in ways which I would now consider highly inappropriate or offensive.
Factual information might be outdated.
Links might be broken; embedded material might not appear properly.
Okay. Consider yourself duly warned. Read on...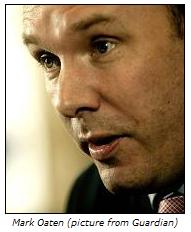 For the best part of the last academic year, some friends and I have had a running joke that the best excuse ever is, "I'm sorry, I can't do that, I've shit myself" (due credit to Charlie Brooker). It really works in any given situation. However, I've found a new pretender to the crown.
You may remember that one of the most esteemed weekly news journals of our time – the News of the World – found that Mr Mark Oaten MP, a dedicated husband and father, had been having a relationship with a rent boy. Oopsie. But, according to this, he had a great excuse:
In an article for the Sunday Times, Mr Oaten said his fall from grace was prompted by a mid-life crisis brought on by his rapid hair loss.
"I slept with a rent boy because my hair fell out". It could be taken straight from the cover of Chat or Pick Me Up. I should know, I unashamedly read these magazines when they're lying about the hospital…
But the real question here: With a killer excuse like that, why did he have to resign? I can't imagine. But he obviously never consulted Prentiss McCabe. He should have said he was a fellow urban fox-spotter.
This 910th post was filed under: News and Comment, Politics.