Hold up! Before you read on, please read this...
This post was published more than 13 years ago
I keep old posts on the site because I often enjoy reading old content on other people's sites. It can be interesting to see how views have changed over time: for example, how my strident teenage views have, to put it mildly, mellowed.
I'm not a believer in brushing the past under the carpet. I've written some offensive rubbish on here in the past: deleting it and pretending it never happened doesn't change that. I hope that stumbling across something that's 13 years old won't offend anyone anew, because I hope that people can understand that what I thought and felt and wrote about then is probably very different to what I think and feel and write about now. It's a relic of an (albeit recent) bygone era.
So, given the age of this post, please bear in mind:
My views may well have changed in the last 13 years. I have written some very silly things over the years, many of which I find utterly cringeworthy today.
This post might use words or language in ways which I would now consider highly inappropriate, offensive, embarrassing, or all three.
Factual information might be outdated.
Links might be broken, and embedded material might not appear properly.
Okay. Consider yourself duly warned. Read on...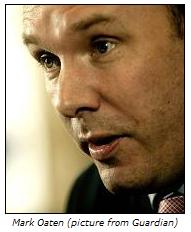 For the best part of the last academic year, some friends and I have had a running joke that the best excuse ever is, "I'm sorry, I can't do that, I've shit myself" (due credit to Charlie Brooker). It really works in any given situation. However, I've found a new pretender to the crown.
You may remember that one of the most esteemed weekly news journals of our time – the News of the World – found that Mr Mark Oaten MP, a dedicated husband and father, had been having a relationship with a rent boy. Oopsie. But, according to this, he had a great excuse:
In an article for the Sunday Times, Mr Oaten said his fall from grace was prompted by a mid-life crisis brought on by his rapid hair loss.
"I slept with a rent boy because my hair fell out". It could be taken straight from the cover of Chat or Pick Me Up. I should know, I unashamedly read these magazines when they're lying about the hospital…
But the real question here: With a killer excuse like that, why did he have to resign? I can't imagine. But he obviously never consulted Prentiss McCabe. He should have said he was a fellow urban fox-spotter.
This 909th post was filed under: News and Comment, Politics.