Hold up! Before you read on, please read this...
This post was published more than 13 years ago
I keep old posts on the site because I often enjoy reading old content on other people's sites. Not everything that is old is bad. It can be interesting to see how views have changed over time: for example, how my strident teenage views have mellowed and matured.
But given the age of this post, please bear in mind:
My views might very well have changed in the 13 years since I wrote this post. I have written some very silly things over the years, many of which I find pretty embarrassing today.
This post might use language in ways which I would now consider highly inappropriate or offensive.
Factual information might be outdated.
Links might be broken; embedded material might not appear properly.
Okay. Consider yourself duly warned. Read on...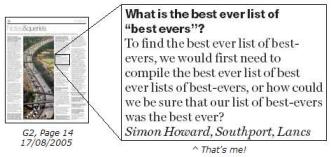 I've done The Indy and Channel 4 News, now it's The Grauny's Notes and Queries page. In response to the query 'What is the best ever list of 'best evers'?", I wrote:
To find the best ever list of best-evers, we would first need to compile the best ever list of best ever lists of best-evers, or how could we be sure that our list of best-evers was the best ever?
So where to next? The Times? The Telegraph? Who can say? I've done the Mail too, but that was before the blog.
Okay, so none of them are really that impressive, but let me have my egotistical moment of glory. There'll be a new post here at 9am tomorrow, because I've already written it and pre-published it. I'm not asking for too much, am I?
This 706th post was filed under: News and Comment.