Hold up! Before you read on, please read this...
This post was published more than 6 years ago
I keep old posts on the site because I often enjoy reading old content on other people's sites. Not everything that is old is bad. It can be interesting to see how views have changed over time: for example, how my strident teenage views have mellowed and matured.
But given the age of this post, please bear in mind:
My views might very well have changed in the 6 years since I wrote this post. I have written some very silly things over the years, many of which I find pretty embarrassing today.
This post might use language in ways which I would now consider highly inappropriate or offensive.
Factual information might be outdated.
Links might be broken; embedded material might not appear properly.
Okay. Consider yourself duly warned. Read on...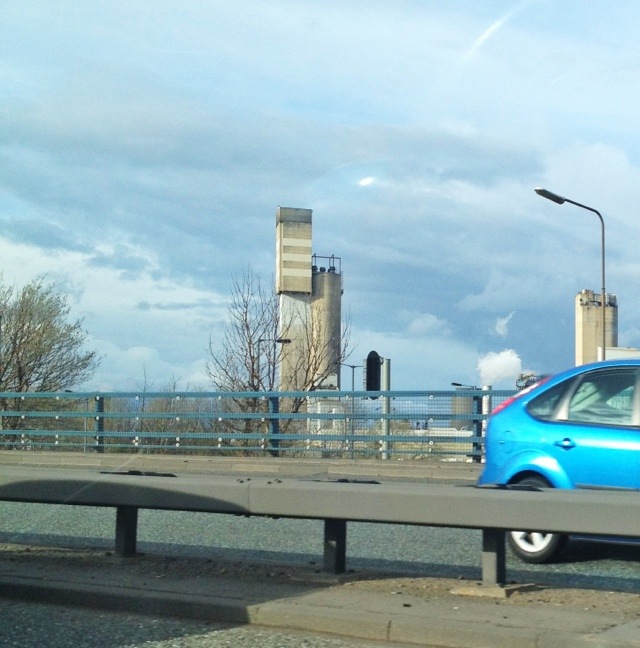 This is the prilling tower that's part of the former ICI plant at Haverton Hill, in Stockton-on-Tees. Prilling is a process I heard about in GCSE chemistry, yet I never quite believed it was true.
Essentially, a chemical (ammonium nitrate in this case) is melted and pumped to the top of the tower, and then released in drops which cool and solidify as they fall, resulting in handy little balls of solid ammonium nitrate to use as fertiliser. It's reminiscent of the shot towers of the 18th century, and it's a little bit remarkable that such an early industrial technique is still a common way of producing something.
I know that fertiliser is still made at Haverton Hill, but I'm not sure whether the prilling tower itself is still operational. I suspect it probably is, as most of the big industrial sites surrounding it are clearly still active.
This 1,598th post was filed under: Photo-a-day 2012, Stockton-on-Tees.