Hold up!
See that little date above?
This post was published years ago.
My opinions have changed over time: I think it's quite fun to keep old posts online so that you can see how that has happened. The downside is that there are posts on this site that express views that I now find offensive, or use language in ways I'd never dream of using it today.
I don't believe in airbrushing history, but I do believe that it's important to acknowledge the obvious: some of what I've written in the past has been crap. Some of it was offensive. Some of it was offensively bad. And there's may be some brass among the muck (you can make up your own mind on that).
Some of what I've presented as my own views has been me—wittingly or unwittingly—posturing without having considered all the facts. In a few years, I'll probably think the same about what I'm writing today, and I'm fine with that. Things change. People grow. Society moves forward.
The internet moves on too, which means there might be broken links or embedded content that fails to load. If you're unlucky, that might mean that this post makes no sense at all.
So please consider yourself duly warned: this post is an historical artefact. It's not an exposition of my current views nor a piece of 'content' than necessarily 'works'.
You may now read on... and in most cases, the post you're about to read is considerably shorter than this warning box, so brace for disappointment.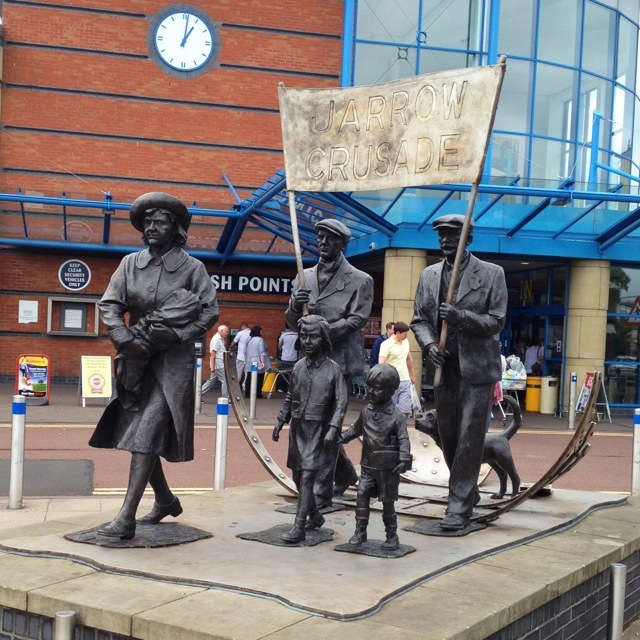 This is Spirit of Jarrow, a Graham Ibbeson statue commemorating the Jarrow Crusade. Surprisingly, it was commissioned by Morrisons, the supermarket chain; less surprisingly, it's in Jarrow.
The Jarrow Crusade was, of course, a 300-mile march of 200 shipyard workers from Jarrow to Parliament in 1936, highlighting the unemployment and poverty of the North East. It certainly didn't result in a quick win: Stanley Baldwin refused to meet the marchers, and the depression in the North East continued pretty much up until the war.
That said, it did highlight the plight of the North East, and generated a lot of popular sympathy. It's often cited as a milestone in the formation of the modern Labour party: it's interesting to remember that the formal position of Labour party of the day was opposition, though Labour giant Ellen Wilkinson was its biggest political proponent. It's perhaps a sad reflection of modern politics that such differences of opinion within a party are rarely tolerated these days.
This post was filed under: Photo-a-day 2012, Art, Jarrow, Newcastle-upon-Tyne.