Hold up! Before you read on, please read this...
This post was published more than 16 years ago
I keep old posts on the site because I often enjoy reading old content on other people's sites. It can be interesting to see how views have changed over time: for example, how my strident teenage views have, to put it mildly, mellowed.
I'm not a believer in brushing the past under the carpet. I've written some offensive rubbish on here in the past: deleting it and pretending it never happened doesn't change that. I hope that stumbling across something that's 16 years old won't offend anyone anew, because I hope that people can understand that what I thought and felt and wrote about then is probably very different to what I think and feel and write about now. It's a relic of an (albeit recent) bygone era.
So, given the age of this post, please bear in mind:
My views may well have changed in the last 16 years. I have written some very silly things over the years, many of which I find cringeworthy today.
This post might use words or language in ways which I would now consider inappropriate, offensive, embarrassing, or all three.
Factual information might be outdated.
Links might be broken, and embedded material might not appear properly.
Okay. Consider yourself duly warned. Read on...
The stark contrasts of the front pages caught my eye today.
By far the 'best' front page today is the Indy's, continuing their tradition of poster-style front pages (of which I am a big fan):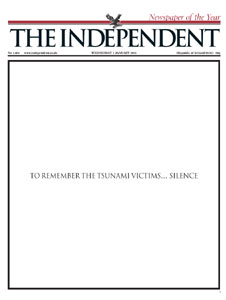 The Sun and The Star both have different takes on the disaster, with the sun leading on Charlie Dimmock's mother, and the Star just about managing to squeeze in a headline about the silence below a scantily clad 'Jen'.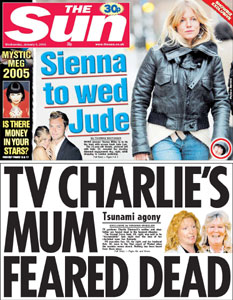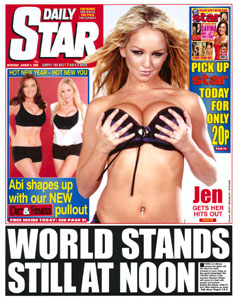 Rather than leading on the biggest natural disaster in history, the apparently respectable Mail lead on… Council Tax.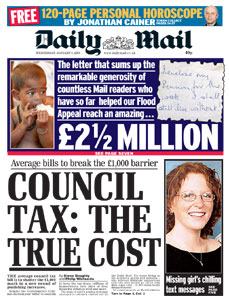 I suppose I should be glad it wasn't their new favourite: gypsies.
This 163rd post was filed under: News and Comment.