Hold up! Before you read on, please read this...
This post was published more than 13 years ago
I keep old posts on the site because I often enjoy reading old content on other people's sites. It can be interesting to see how views have changed over time: for example, how my strident teenage views have, to put it mildly, mellowed.
I'm not a believer in brushing the past under the carpet. I've written some offensive rubbish on here in the past: deleting it and pretending it never happened doesn't change that. I hope that stumbling across something that's 13 years old won't offend anyone anew, because I hope that people can understand that what I thought and felt and wrote about then is probably very different to what I think and feel and write about now. It's a relic of an (albeit recent) bygone era.
So, given the age of this post, please bear in mind:
My views may well have changed in the last 13 years. I have written some very silly things over the years, many of which I find utterly cringeworthy today.
This post might use words or language in ways which I would now consider highly inappropriate, offensive, embarrassing, or all three.
Factual information might be outdated.
Links might be broken, and embedded material might not appear properly.
Okay. Consider yourself duly warned. Read on...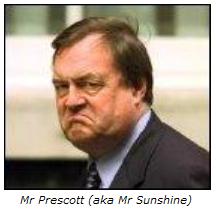 The Right Honourable John Leslie Prescott is to have his wrists slapped for staying at Philip Anschutz's ranch and failing to declare an interest (until bullied into it, of course). My question: Who's going to do the slapping? Given Mr Prescott's history of, err, hands-on politics (and no, not hands on that!), who is going to stand there and give him a good slapping?
Those unfamiliar with Westminster disciplinary proceedings may be somewhat lost, assuming 'slapped wrists' is merely a figure of speech. They would be wrong. The system works thusly:
Horrendous, intolerable offences, like taking a two-week part time job whilst not in cabinet without consulting the correct committee are punishable with immediate sacking.
Major offences like disagreeing with the Prime Minister is treated to a humiliating 'You've let me down, you've let the Party down, and most of all, you've let yourself down' speech until eventually you feel forced out of the clique and out of the cabinet.
If you're a little bit naughty and abuse your power by sleeping with your secretary, you go over the PM's knee and have a couple of departments taken off you, but keep your job, salary, and perks.
If you do something minor, like accepting gifts and holidays from someone before then giving them governmental support (let's just call it being generally corrupt), then you get a quick slap on the wrist.
If you do something barely worth mentioning, like, y'know, lying to Parliament or starting an illegal war, then that's just brushed under the carpet.
See, it all makes perfect sense. All we need now is someone good at ducking!
This 905th post was filed under: News and Comment, Politics.