Hold up!
See that little date above?
This post was published years ago.
My opinions have changed over time: I think it's quite fun to keep old posts online so that you can see how that has happened. The downside is that there are posts on this site that express views that I now find offensive, or use language in ways I'd never dream of using it today.
I don't believe in airbrushing history, but I do believe that it's important to acknowledge the obvious: some of what I've written in the past has been crap. Some of it was offensive. Some of it was offensively bad. And there's may be some brass among the muck (you can make up your own mind on that).
Some of what I've presented as my own views has been me—wittingly or unwittingly—posturing without having considered all the facts. In a few years, I'll probably think the same about what I'm writing today, and I'm fine with that. Things change. People grow. Society moves forward.
The internet moves on too, which means there might be broken links or embedded content that fails to load. If you're unlucky, that might mean that this post makes no sense at all.
So please consider yourself duly warned: this post is an historical artefact. It's not an exposition of my current views nor a piece of 'content' than necessarily 'works'.
You may now read on... and in most cases, the post you're about to read is considerably shorter than this warning box, so brace for disappointment.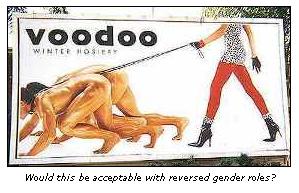 The issue of the incongruity of having a Minister for Women but no Minister for Men is raising it's ugly head again, with a new campaign blog – The Rights Of Man – calling for the creation of the post.
At first-glance, it's the kind of idea that looks like the creation of a job for the sake of balancing out the appearance of government. It looks a little bit like political correctness with no particular aim and nothing in particular to achieve. It possibly even seems a little anti-feminist.
But actually, as the blog's priority list for a Minister for Men shows, there are quite a few predominantly male-orientated issues, just as there are for women:
Make improving the educational attainment of boys a priority
Make the state recognise/support male domestic violence victims
Improve care and funding for prostate/testicular cancer sufferers
Make judges enforce child contact orders
Support equal parenting laws
Provide better help and retraining for unemployed men
Force a review of the CSA maintenance criteria where the mother has left her husband for another man, re-married or has simply walked out of a marriage with the children
Support anonymity for men accused of rape, unless found guilty
Improve care and support for men suffering from depression
Campaign against anti-male propaganda and male sterotyping in the media
Support equal sentencing criteria for men and women
Stop the political disenfranchisement of individual men by abolishing all-women shortlists and priority lists
Whilst I don't agree with all of those points, it does illustrate that there is real work to be done in the world of masculism. So, as a proposal, perhaps a Minister for Men is not all that silly an idea after all.
This post was filed under: Politics.