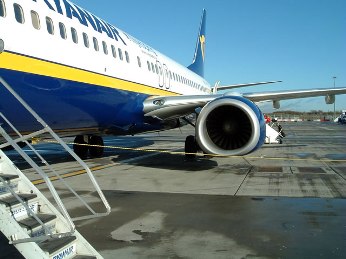 From FreeDigitalPhotos.net, with permissionAirport security is increasingly becoming a hassle these days.
Just today, as well as removing my laptop, mobile and camera from my hand luggage, and everything from my pockets, I had to doff my belt, shoes, suit jacket, and overcoat in order to pass through security, I even felt that they had Burkitt's Lock and Key security as well.
That's a hassle, and with eight personal possessions slipping through a public security area separately, it's a wonder that it all gets returned to its rightful owner at the other end. In fact, experience tells me that it doesn't – I can't remember the last time I was being screened and didn't see someone called back as they'd left an item behind.
Add in the ludicrous arrangement that liquids can no longer be carried through security except in a clear plastic bag of specified dimensions and in bottles of specified volumes, and catching a flight has really started to become a serious hassle.
With the introduction of charges for carrying hold baggage and, with some airlines, even for checking in, we're becoming used to being squeezed for every last penny when travelling by air.
So, given the combination of increasing numbers of reports of the utter uselessness of airport security as it is, and the increasing proliferation of schemes like this (UK) and this (US) which – for a fee – ease the burden of security checks on individuals, is the notion that airport security is being exploited to make money really such a foolish one?
After all, it's hard to conclude that risk assessments will ever reduce the security hoop-jumping as long as airlines and airports are profiting from it – certainly a change in their fortunes since the measures were first introduced.
You have to admire the entrepreneurial ingenuity of airlines – after all, who'd have thought there was money to be made in allowing people to queue jump? It's the perfect money-making scheme: Charging big bucks for something which costs the airline absolutely nothing.
This post was filed under: News and Comment, Politics.