Hold up! Before you read on, please read this...
This post was published more than 13 years ago
I keep old posts on the site because I often enjoy reading old content on other people's sites. It can be interesting to see how views have changed over time: for example, how my strident teenage views have, to put it mildly, mellowed.
I'm not a believer in brushing the past under the carpet. I've written some offensive rubbish on here in the past: deleting it and pretending it never happened doesn't change that. I hope that stumbling across something that's 13 years old won't offend anyone anew, because I hope that people can understand that what I thought and felt and wrote about then is probably very different to what I think and feel and write about now. It's a relic of an (albeit recent) bygone era.
So, given the age of this post, please bear in mind:
My views may well have changed in the last 13 years. I have written some very silly things over the years, many of which I find utterly cringeworthy today.
This post might use words or language in ways which I would now consider highly inappropriate, offensive, embarrassing, or all three.
Factual information might be outdated.
Links might be broken, and embedded material might not appear properly.
Okay. Consider yourself duly warned. Read on...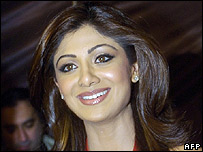 There's been a lot of news coverage today about perceived racism on Celebrity Big Brother, with the row about the treatment of Bollywood star Shilpa Shetty even reaching Parliament.
Channel 4 should view this as an opportunity, not a failure. The series is flagging as it is, but imagine the acres of press coverage if they were to cancel the series, right here, right now. It would be huge. And it would probably bring in fantastic rating for Channel 4, for the inevitable post-controversy interviews with the involved contestants. That would be one huge buzz surrounding this increasingly dull brand.
Then we come to summer. Channel 4 revamp the programme, have a whole new look to the series with a new presenter, and some tweaks to the Big Brother format. Revamping the show, along with the controversy that even having a new series, would create such a fever-pitch buzz that ratings would shoot through the roof.
They'd be mad not to capitalise on the controversy.
This 1,039th post was filed under: Media.