Hold up! Before you read on, please read this...
This post was published more than 14 years ago
I keep old posts on the site because I often enjoy reading old content on other people's sites. It can be interesting to see how views have changed over time: for example, how my strident teenage views have, to put it mildly, mellowed.
I'm not a believer in brushing the past under the carpet. I've written some offensive rubbish on here in the past: deleting it and pretending it never happened doesn't change that. I hope that stumbling across something that's 14 years old won't offend anyone anew, because I hope that people can understand that what I thought and felt and wrote about then is probably very different to what I think and feel and write about now. It's a relic of an (albeit recent) bygone era.
So, given the age of this post, please bear in mind:
My views may well have changed in the last 14 years. I have written some very silly things over the years, many of which I find utterly cringeworthy today.
This post might use words or language in ways which I would now consider highly inappropriate, offensive, embarrassing, or all three.
Factual information might be outdated.
Links might be broken, and embedded material might not appear properly.
Okay. Consider yourself duly warned. Read on...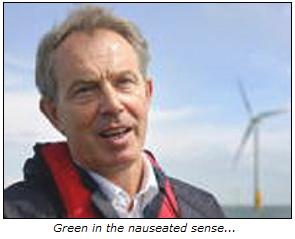 Walter Pincus, a veteran Washington Post reporter, argues that US networks should fight back against what he terms 'the PR presidency' by refusing to cover statements and events staged purely as PR boosters. I say: Please ignore him.
If we were to ignore every PR-motivated statement, we would miss real gems. We would've missed the sight this week of Blair desperately trying to convince us he's a "green" PM by giving a statement whilst stood aboard a launch by a windfarm: Possibly the most ludicrous PR stunt this PM has undertaken in a few years, which served only to make him appear "green" in an unintended sense. Well, that's not quite true. It also served to lift the spirits of a nation through a profound sense of schadenfreude.
It probably also served as a reasonable metaphor for the "rocky times" this government is currently undergoing, what with members of the governing party and close friends of the PM being arrested. Though that, too, is really quite fun to watch: After everything he'd done wrong, the net is finally closing in on him. It's a little like the fifth season of 24, but without the cliffhangers every hour. Or, y'know, MacBeth if you go for the more traditional approach.
The tragedy for Blair is that he's now lost control of the "stable and orderly transition" he always wanted. He's stayed past his welcome, and there's now no way to resign with dignity. He's off, and not at a time of his own choosing. And power won't be handed straight next door, there will be a challenge. Blair's government can no longer end; it will be ended, leaving Blair humiliated, just as he's being humiliated into playing Cameron catch-up now.
Blair's started out as a PR government, and it's ending as a PR government. Just different PR's. Humiliating and undignified.
This 899th post was filed under: News and Comment, Politics.