Hold up! Before you read on, please read this...
This post was published more than 12 years ago
I keep old posts on the site because I often enjoy reading old content on other people's sites. Not everything that is old is bad. It can be interesting to see how views have changed over time: for example, how my strident teenage views have mellowed and matured.
But given the age of this post, please bear in mind:
My views might very well have changed in the 12 years since I wrote this post. I have written some very silly things over the years, many of which I find pretty embarrassing today.
This post might use language in ways which I would now consider highly inappropriate or offensive.
Factual information might be outdated.
Links might be broken; embedded material might not appear properly.
Okay. Consider yourself duly warned. Read on...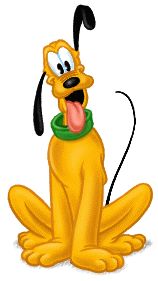 As Mickey Mouse's animated doggy friend, he entertained generations of children. But in a scandalous move, Disney have now demoted him from being a classically planet-sized celebrity – with his own shows and lines of clothing – to a minor dwarf, taking Snow White's total to eight.
It's pure speculation, but this could have something to do with the circulating rumours that he and Mickey have never buried the hatchet since the 1930s incident dramatised in 'Chain Gang' where Pluto chased Mickey, when the latter escaped from prison. He then became Minnie's pet, before becoming Mickey's own pet some years later.
Pluto has also had short spells in the care of Donald Duck, but it would appear that even this friend refused to take him back on this occasion, leaving him to become one of the dwarves in the care of Snow White. The reason for rejection by his closest friends is clouded in mystery, but could be due to repeated sexual indiscretion, drug addiction, or alcoholism: Rumours of all three have been circulating in media circles for decades, largely thanks to his surprising and unexpected absence from Mickey's Christmas Carol in 1983.
Due to a difficult childhood, Pluto has been mute throughout his adult life, unlike his fair-weather friend Goofy. It's thought that this latest rejection won't help heal the psychological scars left from his early years.
Pluto's son, Pluto Junior, and brother, KB, are not thought to be joining the ranks of the dwarves at the present time.
Oh, and there's something about a planet not being a planet in the news, too. Don't know what all that's about.
This 941st post was filed under: News and Comment.