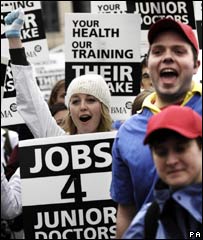 StableSound have made two songs about the complete mess Patricia Hewitt has created in MMC, which has left thousands of doctors without an appropriate job. Perhaps this reflects a small slice of the general feeling about the problem amongst the medical profession.
MMC Song:
[audio:http://sjhoward.co.uk/audio/mmc.mp3]
Study for Nothing:
[audio:http://sjhoward.co.uk/audio/mmc2.mp3]
There are many, many more great songs from StableStound on other topics here, and I'll be revisiting this very popular post soon for more musical discussion.
And there's more on MMC coming your way tomorrow, right here. Can't wait.
This post was filed under: Health, News and Comment, Politics.