Hold up! Before you read on, please read this...
This post was published more than 12 years ago
I keep old posts on the site because I often enjoy reading old content on other people's sites. Not everything that is old is bad. It can be interesting to see how views have changed over time: for example, how my strident teenage views have mellowed and matured.
But given the age of this post, please bear in mind:
My views might very well have changed in the 12 years since I wrote this post. I have written some very silly things over the years, many of which I find pretty embarrassing today.
This post might use language in ways which I would now consider highly inappropriate or offensive.
Factual information might be outdated.
Links might be broken; embedded material might not appear properly.
Okay. Consider yourself duly warned. Read on...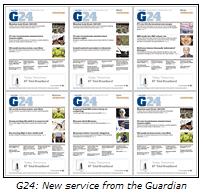 I'm delighted to see Guardian Unlimited leading the way once again with a brand new feature launched this week: G24. Essentially, this presents a multi-page almost magazine-formatted downloadable PDF digest of the very latest news on the website, so that one can print it off and read the very latest news at one's leisure.
The G24 (a play on the names of 'G2' and 'G3' sections of the paper) currently comes in five editions: Top Stories, World, Media, Business, and Sport, each updated every fifteen minutes and containing no more than 10 A4 pages.
The launch is covered in more detail in the Editor's Week column of today's Grauniad:
This week Guardian Unlimited launched a new print edition – but unlike any newspaper you'll have come across before. For a start, its distinguishing features appear to owe more to the world of online news than traditional print. It is updated every few minutes, is available 24 hours a day, seven days a week, is free, and it can be found around the world.

The big difference is that we're now asking you to, in essence, supply the printing press.
Is this the future of the newspaper? I don't know. But it's definitely a service I'll be using (indeed, it's one I'd probably be willing to pay for, as I already do for an ad-free Guardian site), and I will be amazed if this isn't imitated within weeks by competitors.
I think this is a really good idea.
This 914th post was filed under: Media, News and Comment, Technology.