Hold up!
See that little date above?
This post was published years ago.
My opinions have changed over time: I think it's quite fun to keep old posts online so that you can see how that has happened. The downside is that there are posts on this site that express views that I now find offensive, or use language in ways I'd never dream of using it today.
I don't believe in airbrushing history, but I do believe that it's important to acknowledge the obvious: some of what I've written in the past has been crap. Some of it was offensive. Some of it was offensively bad. And there's may be some brass among the muck (you can make up your own mind on that).
Some of what I've presented as my own views has been me—wittingly or unwittingly—posturing without having considered all the facts. In a few years, I'll probably think the same about what I'm writing today, and I'm fine with that. Things change. People grow. Society moves forward.
The internet moves on too, which means there might be broken links or embedded content that fails to load. If you're unlucky, that might mean that this post makes no sense at all.
So please consider yourself duly warned: this post is an historical artefact. It's not an exposition of my current views nor a piece of 'content' than necessarily 'works'.
You may now read on... and in most cases, the post you're about to read is considerably shorter than this warning box, so brace for disappointment.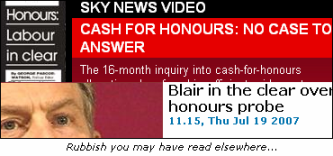 Yesterday, you may have seen in the mainstream media that the Labour Party has been cleared of wrongdoing in the Cash for Honours affair. It's just not true.
The CPS didn't clear the Labour Party. They didn't even come close. This is just lazy reporting of something close to the truth that's easier to understand, but fundamentally wrong. Allow me to explain.
Let's revisit the two bare, startling, facts of the case:
Every single person who has ever given the Labour Party over £1,000,000 has received a knighthood or peerage.
Three-quarters of those giving over £50,000 in the last six years have received an honour.
It is therefore undeniable that there is a connection between party funding and peerages. The case hinged on whether the peerages were 'sold' as according to the letter of the law – it's perfectly legal to grant honours as a recognition of a large donation, but not in return for a large donation, which is a quite a subtle difference.
From my perspective (and that of more intelligent people), the fact that such a huge proportion of big donors received honours clearly demonstrates that an 'incentive' scheme was there – donate over £1m, and you'll get a knighthood or peerage – which would mean that the awards were in return for donations, expected by the donors, and hence criminal.
The important thing to note is this: The CPS absolutely did not say that crimes hadn't been committed. They are not clearing the Labour Party of selling peerages. To me, as I've explained, it's quite clear that peerages were sold. If you read the full text of the CPS decision (I've uploaded it here), they are quite clear:
Today's decision indicates unequivocally that there is insufficient evidence to support proceedings against any individual
The fact is that a series of crimes may very well have been committed here. The CPS just doesn't have enough evidence to pin it on one particular person. To draw from this that no criminal acts took place is as absurd as saying that Nicole Simpson wasn't murdered because OJ was cleared.
Whether or not there's enough evidence to convict, someone – OJ or otherwise – murdered Nicole. Just because no one individual can be prosecuted for an offence does not indicate that a crime didn't take place – and the CPS aren't trying to argue that it does. The Labour Party has certainly not been cleared of selling peerages.
For what it's worth, I actually think that the investigation has served it's purpose as it is. Had prosecutions followed, they would have been those of scapegoats and lackeys, rather than the key players in the story. But the investigation will demand reform of the honours system, which is badly needed, and so perhaps some good will come out of it in the end.
This post was filed under: News and Comment, Politics.