Hold up! Before you read on, please read this...
This post was published more than 6 years ago
I keep old posts on the site because I often enjoy reading old content on other people's sites. Not everything that is old is bad. It can be interesting to see how views have changed over time: for example, how my strident teenage views have mellowed and matured.
But given the age of this post, please bear in mind:
My views might very well have changed in the 6 years since I wrote this post. I have written some very silly things over the years, many of which I find pretty embarrassing today.
This post might use language in ways which I would now consider highly inappropriate or offensive.
Factual information might be outdated.
Links might be broken; embedded material might not appear properly.
Okay. Consider yourself duly warned. Read on...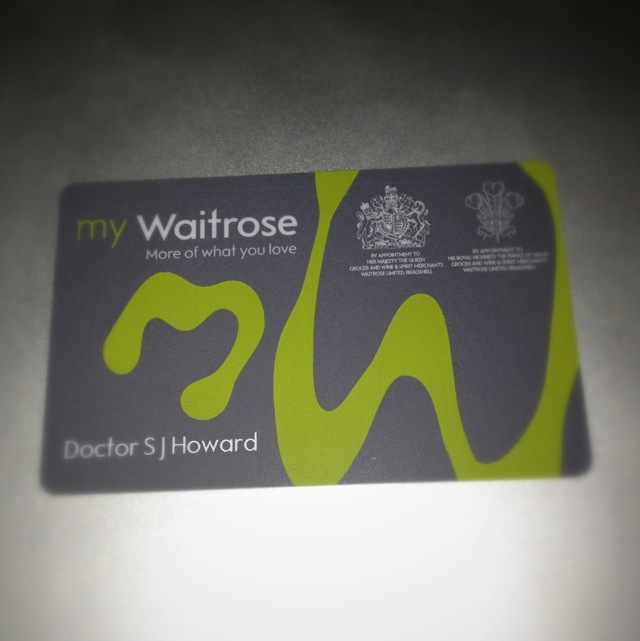 Waitrose sent this card to me a few weeks ago, yet I really don't understand what its point is. The literature that accompanied it told me that I should scan it each time I shop (aka volunteering my data), but didn't explain what I could expect in return, beyond vague statements like "more of what you love".
Even having been on their website, I still don't understand how it's supposed to benefit me. And beyond that, given the infrequency with which I shop at Waitrose, I don't really understand why I got it in the first instance. It's really not the kind of transparent communication I expect from the John Lewis Partnership.
It's the least well explained "loyalty" scheme I've ever encountered, and since I don't understand what I'm exchanging my data for, the card won't be jumping into my wallet just yet!
This 1,542nd post was filed under: Photo-a-day 2012, John Lewis Partnership, Retail, Waitrose.