Hold up!
See that little date above?
This post was published years ago.
My opinions have changed over time: I think it's quite fun to keep old posts online so that you can see how that has happened. The downside is that there are posts on this site that express views that I now find offensive, or use language in ways I'd never dream of using it today.
I don't believe in airbrushing history, but I do believe that it's important to acknowledge the obvious: some of what I've written in the past has been crap. Some of it was offensive. Some of it was offensively bad. And there's may be some brass among the muck (you can make up your own mind on that).
Some of what I've presented as my own views has been me—wittingly or unwittingly—posturing without having considered all the facts. In a few years, I'll probably think the same about what I'm writing today, and I'm fine with that. Things change. People grow. Society moves forward.
The internet moves on too, which means there might be broken links or embedded content that fails to load. If you're unlucky, that might mean that this post makes no sense at all.
So please consider yourself duly warned: this post is an historical artefact. It's not an exposition of my current views nor a piece of 'content' than necessarily 'works'.
You may now read on... and in most cases, the post you're about to read is considerably shorter than this warning box, so brace for disappointment.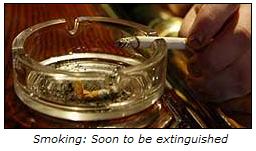 MPs have voted to ban smoking in all pubs and clubs in England. This is a tough one for me, because I'm very much on the fence on this issue. But, for the record, I don't smoke, and I don't like people smoking around me. That just doesn't necessarily mean I want it banned.
As a healthcare (apparently) professional, I should be jumping up and down at the prospect of people not smoking in pubs and clubs, and raving about how this legislation will save people's lives, and reduce the rate of lung cancer and other smoking-related diseases. But I have my reservations. Yes, this will undoubtedly stop some casual smokers from smoking, and possibly thereby stop other people who might start as casual smokers from ever starting. It will also protect staff from the effects of passive smoking. Some lives will inevitably be saved.
But what about the (stereotypical) poor household, where dad would wander down to the pub for a pint and a smoke each evening? Is he not now going to smoke more at home, and do more damage to his poor kid?
And what of the heavy smokers, who are those most at risk of disease? This legislation is unlikely to change their habits. And what of the little villiage pubs? Is the local PC really going to Plod round there and slap a fine on them for failing to ban smoking? Especially if PC Plod himself smoke, or the consolidation of police forces means that he's out of a job and the nearest police station is fifty miles away? Will the problem not increase in these 'underground' pubs, where more people are potentially at risk as the pub serves as the hub of the community, and people are in there more often than the trendy wine bar in the city?
On top of all of that, it's another government dictat, which are inevitably controversial, and shift the balance of power further away from the people who elected the government in the first place. My argument throughout this saga has been that if pubs are brave (like Wetherspoons briefly was), then they'll ban smoking. If there's such a demand for non-smoking venues, then their business will increase, and other pubs will be economically forced to follow suit – including the little villiage pub, who would be introducing the change off their own back, and so be more inclined to make the ban stick. This would be a gradual change, which would change the public's and smokers' attitudes to smoking in general, and would probably have more far-reaching effects than simply banning smoking in these areas. Smoking would become increasingly socially unacceptable, which is a powerful force in getting people to give up.
So, whilst the ban is clearly a good thing in that it will save lives, I'm still not convinced that it was the best way to tackle the problem. But it's a way, and it looks like it's here to stay.
This post was filed under: News and Comment, Politics.