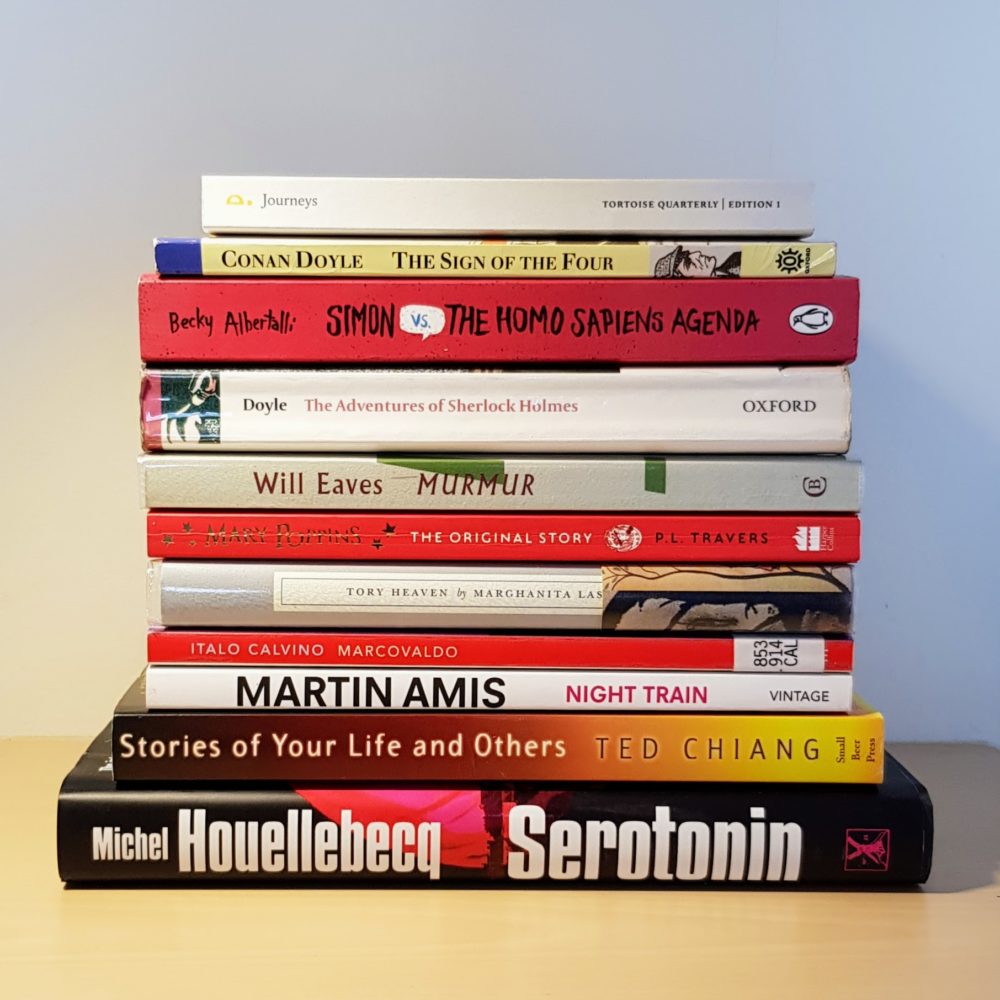 I've eleven books to tell you about this month.
---
Serotonin by Michel Houellebecq
I had never read anything by Houellebecq before, but knew of his reputation for gloom. This book lived up to that reputation, mostly in a good way. I read the translation by Shaun Whiteside.
The protagonist was a depressed agricultural advisor to the French government on farming and agricultural matters. He was prescribed a novel antidepressant which increased his serotonin level (hence the title). The novel followed this not entirely likable character as he made increasingly strange life choices.
The high suicide rate among agricultural workers is well known, but this novel made me think a bit more about the myriad causes of this, especially in modern society. It was also good at giving a slightly different perspective on the experience of depression and medication. There was a good dose of dark humour mixed in with the tragedy.
There was a fair amount of gratuitous sex, including bestiality and paedophilia, which seemed like it was there more to shock than to perform any intrinsic function. Also, in one of those bizarre turns of fate, there's a section in this reflecting on Arthur Conan Doyle's short stories, which I was reading at the same time!
---
Stories of Your Life and Others by Ted Chiang
I fully recognise that this has a reputation as one of the greatest collections of short science fiction stories ever written, but it was just not for me.
I don't usually enjoy science fiction but decided to challenge myself with this: it has a reputation for being so accomplished that it appeals to people who don't usually enjoy science fiction. But I found it a real slog to get through.
I'm not sure what it is that generates such a negative reaction in me. I think it might be something to do with the fantastical nature of much science fiction—I don't like fantasy stories either, so perhaps my imagination is limited to stuff grounded in reality.
I think it might also be something to do with the writing, which often struck me as inelegant, despite clearly being loved and respected by better informed people than me—to me it often felt more scientific than poetic, and I think I prefer poetic descriptions of emotions (not 'Neil was consumed with grief after she died, a grief that was excruciating not only because of its intrinsic magnitude, but also because it renewed and emphasised the previous pains of his life.')
So I'm still not a fan of science fiction.
This post was filed under: What I've Been Reading, Arthur Conan Doyle, Becky Albertalli, Italo Calvino, Marghanita Laski, Martin Amis, Mary Poppins, Michel Houellebecq, PL Travers, Shaun Whiteside, Sherlock Holmes, Ted Chiang, Tortoise, Will Eaves, William Weaver.