Hold up! Before you read on, please read this...
This post was published more than 15 years ago
I keep old posts on the site because I often enjoy reading old content on other people's sites. It can be interesting to see how views have changed over time: for example, how my strident teenage views have, to put it mildly, mellowed.
I'm not a believer in brushing the past under the carpet. I've written some offensive rubbish on here in the past: deleting it and pretending it never happened doesn't change that. I hope that stumbling across something that's 15 years old won't offend anyone anew, because I hope that people can understand that what I thought and felt and wrote about then is probably very different to what I think and feel and write about now. It's a relic of an (albeit recent) bygone era.
So, given the age of this post, please bear in mind:
My views may well have changed in the last 15 years. I have written some very silly things over the years, many of which I find cringeworthy today.
This post might use words or language in ways which I would now consider inappropriate, offensive, embarrassing, or all three.
Factual information might be outdated.
Links might be broken, and embedded material might not appear properly.
Okay. Consider yourself duly warned. Read on...
This was from today's Guardian (also on the Newsblog, here). It could so easily have been an internet fake sent round by email, but it's a genuine picture from the UN. I'm not sure whether that's good or bad, particularly with his clearly poor linguistic skills: Why's half of it capitalised? Is it some kind of sign?!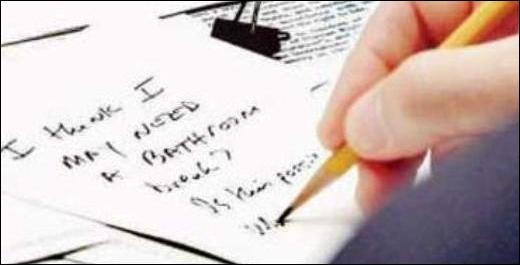 Anyway, since I've stolen it from the Grauny, it only seems polite to include their copy as well:
Schoolboys through the ages have raised their hands with a pained look on their faces and a blurted: "Please, Miss!" — but what is a US president to do?

Faced with a suddenly pressing need to go to the toilet at Wednesday's UN summit, George Bush turned to the woman whose job it is to guide him through the constraints of diplomacy, secretary of state, Condoleezza Rice. "I think I MAY NEED A BATHROOM break. Is this possible?" the president wrote, resorting to capitals to convey the urgency of the situation. The pencilled note, during a security council meeting, was spotted by a Reuters photographer.

It was not clear whether the leader of the free world got his wish — the White House made no comment.
That photographer deserves a raise. At the very least.
This 727th post was filed under: News and Comment.