Hold up! Before you read on, please read this...
This post was published more than 13 years ago
I keep old posts on the site because I often enjoy reading old content on other people's sites. It can be interesting to see how views have changed over time: for example, how my strident teenage views have, to put it mildly, mellowed.
I'm not a believer in brushing the past under the carpet. I've written some offensive rubbish on here in the past: deleting it and pretending it never happened doesn't change that. I hope that stumbling across something that's 13 years old won't offend anyone anew, because I hope that people can understand that what I thought and felt and wrote about then is probably very different to what I think and feel and write about now. It's a relic of an (albeit recent) bygone era.
So, given the age of this post, please bear in mind:
My views may well have changed in the last 13 years. I have written some very silly things over the years, many of which I find utterly cringeworthy today.
This post might use words or language in ways which I would now consider highly inappropriate, offensive, embarrassing, or all three.
Factual information might be outdated.
Links might be broken, and embedded material might not appear properly.
Okay. Consider yourself duly warned. Read on...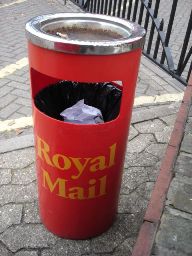 As of a few minutes ago, Royal Mail workers are on strike.
In the wider context, Royal Mail is failing. It's losing contracts left, right, and centre, and hence losing big money. To be able to compete with new firms now it has lost its monopoly, it needs to modernise, which includes sacking people and replacing them with machines. It's been this way since the Industrial Revolution.
The workers aren't happy, and so are striking. This means that Royal Mail is perceived as unreliable, more contracts are lost, and more big money is lost. Hence, more jobs need to go. What am I missing?
A little over two years ago, when Royal Mail first lost it's monopoly, I set a test by which we would be able to judge whether the idea had been a success. It had four criteria:
1. Is Royal Mail performing?
2. Has Royal Mail increased prices?
3. Has Royal Mail ditched rural services?
4. Has Royal Mail given up completely?
By my count, it's not performing as businesses are switching away, prices have increased, and the workers appear to be giving up completely. 3 out of 4 ain't bad – especially when you consider that this is what I thought might happen in five years, not two.
This 1,164th post was filed under: Miscellaneous.