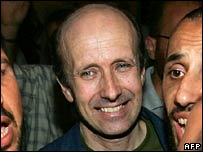 News breaking within the last hour that Alan Johnston has been released. What fantastic news!
Hearing him speaking on BBC World at the moment, and the just joyful reaction of the presenter and his colleagues is just marvellous.
It's wonderful, just wonderful to see that sometimes things can come good. Tremendous.
The best news I've heard in a long time.
This post was filed under: Media, News and Comment, Politics.