Hold up! Before you read on, please read this...
This post was published more than 12 years ago
I keep old posts on the site because I often enjoy reading old content on other people's sites. Not everything that is old is bad. It can be interesting to see how views have changed over time: for example, how my strident teenage views have mellowed and matured.
But given the age of this post, please bear in mind:
My views might very well have changed in the 12 years since I wrote this post. I have written some very silly things over the years, many of which I find pretty embarrassing today.
This post might use language in ways which I would now consider highly inappropriate or offensive.
Factual information might be outdated.
Links might be broken; embedded material might not appear properly.
Okay. Consider yourself duly warned. Read on...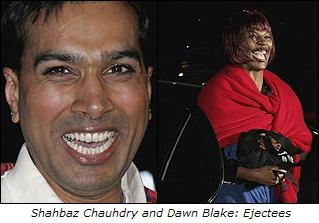 First Shahbaz went nuts, and now Dawn's done a Nick and been thrown out for rule breaking. Tomorrow, another's going to be thrown out because, hell, we don't like them.
So we've already got fourteen housemates, one more's going in through a Kit Kat promotion, and there's two more to go in to replace the two that've been kicked out. After one week, we're up to sixteen housemates. Then there's eleven housemates from series one, eleven from series two, fourteen from series three, thirteen from series four, thirteen from series five, sixteen from series six, plus thirty-three 'celebrity' contestants. That's 127 Big Brother Housemates. Another eight from Teen Big Brother takes the total to 135.
Surely there can't be that many more people who want to go in? Everyone knows that the majority of the contestants are treated cruelly on the show, and then ridiculed by the press, before fading to obscurity. We have the experience of 135 people to tell us that. I wouldn't know Tania Do-Nascimento, Herjender Gosal or Lynne Moncrieff if I fell over them in the street. Why would anyone put themselves through all that?
This 876th post was filed under: Media, News and Comment.