Hold up! Before you read on, please read this...
This post was published more than 14 years ago
I keep old posts on the site because I often enjoy reading old content on other people's sites. It can be interesting to see how views have changed over time: for example, how my strident teenage views have, to put it mildly, mellowed.
I'm not a believer in brushing the past under the carpet. I've written some offensive rubbish on here in the past: deleting it and pretending it never happened doesn't change that. I hope that stumbling across something that's 14 years old won't offend anyone anew, because I hope that people can understand that what I thought and felt and wrote about then is probably very different to what I think and feel and write about now. It's a relic of an (albeit recent) bygone era.
So, given the age of this post, please bear in mind:
My views may well have changed in the last 14 years. I have written some very silly things over the years, many of which I find cringeworthy today.
This post might use words or language in ways which I would now consider inappropriate, offensive, embarrassing, or all three.
Factual information might be outdated.
Links might be broken, and embedded material might not appear properly.
Okay. Consider yourself duly warned. Read on...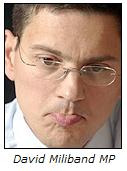 David Miliband has a blog. A blog that cost the taxpayer £6,000. And isn't allowed to contain political comments.
Question one: How on earth did it cost £6,000 to set up? That's hundreds times more than this blog has cost in it's entire lifespan, and there are a great many tools out there (WordPress.com and Blogger, for example) that would have allowed him to do the same for nothing.
Question two: What's the point? A politician sets up a blog that can't have political comments on it?
Question three: Can I have my money back, please?
To be fair, he does attempt to answer one of the above three questions in his blurb:
This blog is my attempt to help bridge the gap – the growing and potentially dangerous gap – between politicians and the public. It will show some of what I'm doing, what I'm thinking about, and what I've read, heard or seen for myself which has sparked interest or influenced my ideas.
I'm not entirely sure who Mr Miliband thinks will read his blog, and I'm slightly scared that the fact I've visited it will be one more hit towards the definition of success. And quite how he's going to tell us what he's thinking as a politician without making political comments is unclear. But I'm sure this is a good use of taxpayer's money…!
Even Boris can do it better…
This 853rd post was filed under: Politics, Technology.