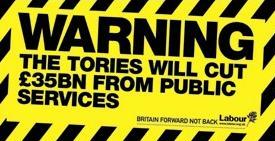 Labour fail, once again, to tell us what they will do if re-elected.
With this kind of puerile negative campaigning, they don't deserve to win the next election. It just shows them in their true nasty, cliquey, vindictive light. Not to mention how they like to stretch the truth, considering how the Tories aren't the only party to be committed to cutting waste in the public services.
I certainly can't trust and support a party that does this kind of thing, and I hope that you won't either.
This post was filed under: Election 2005.