Hold up! Before you read on, please read this...
This post was published more than 13 years ago
I keep old posts on the site because I often enjoy reading old content on other people's sites. Not everything that is old is bad. It can be interesting to see how views have changed over time: for example, how my strident teenage views have mellowed and matured.
But given the age of this post, please bear in mind:
My views might very well have changed in the 13 years since I wrote this post. I have written some very silly things over the years, many of which I find pretty embarrassing today.
This post might use language in ways which I would now consider highly inappropriate or offensive.
Factual information might be outdated.
Links might be broken; embedded material might not appear properly.
Okay. Consider yourself duly warned. Read on...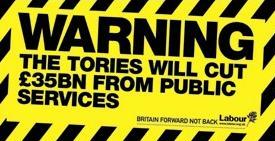 Labour fail, once again, to tell us what they will do if re-elected.
With this kind of puerile negative campaigning, they don't deserve to win the next election. It just shows them in their true nasty, cliquey, vindictive light. Not to mention how they like to stretch the truth, considering how the Tories aren't the only party to be committed to cutting waste in the public services.
I certainly can't trust and support a party that does this kind of thing, and I hope that you won't either.
This 445th post was filed under: Election 2005.