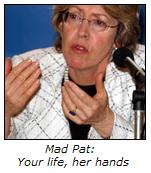 Have you ever stayed in a cheap hotel and thought that the sheets didn't seem quite as fresh and clean as you might hope? Well, under the great leadership of Mad Pat, you might get the same feeling in hospital.
The Times reports today that cleaners at Good Hope Hospital in Birmingham have been ordered to top-and-tail used sheets instead of using clean ones, to save 0.275p per sheet. Infection control clearly isn't at the top of the agenda.
The NHS is crumbling. Florence Nightingale provided clean bedding for every patient over a hundred-and-fifty years ago. Yet, in the 21st century, the NHS can't afford it. Patients are being put at unacceptable risks to fund NHS managers and bureaucracy, yet news programmes are more interested in the love life of a 24 year old socialite.
This post was filed under: Health, Media, News and Comment.