Hold up!
See that little date above?
This post was published years ago.
My opinions have changed over time: I think it's quite fun to keep old posts online so that you can see how that has happened. The downside is that there are posts on this site that express views that I now find offensive, or use language in ways I'd never dream of using it today.
I don't believe in airbrushing history, but I do believe that it's important to acknowledge the obvious: some of what I've written in the past has been crap. Some of it was offensive. Some of it was offensively bad. And there's may be some brass among the muck (you can make up your own mind on that).
Some of what I've presented as my own views has been me—wittingly or unwittingly—posturing without having considered all the facts. In a few years, I'll probably think the same about what I'm writing today, and I'm fine with that. Things change. People grow. Society moves forward.
The internet moves on too, which means there might be broken links or embedded content that fails to load. If you're unlucky, that might mean that this post makes no sense at all.
So please consider yourself duly warned: this post is an historical artefact. It's not an exposition of my current views nor a piece of 'content' than necessarily 'works'.
You may now read on... and in most cases, the post you're about to read is considerably shorter than this warning box, so brace for disappointment.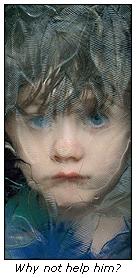 The Observer reports today that a leaked report shows that the NHS is 'failing our children' through a lack of Child and Adolescent Mental Health Services (CAHMS). And how.
One quarter of the country does not have crisis teams for Child and Adolescent Mental Health Services. That is beyond belief. If the report was that we didn't have ambulances to pick up children in 25% of the country, nobody would accept it, because we know children would die. Newsflash: The lack of crisis teams means children are dying.
Imagine for a second that, god forbid, your child is standing on your roof and threatening to jump and kill himself. Who do you call? In 25% of the country, there's no-one to help. Imagine your teenager suddenly has horrific hallucinations of millions of spiders coming to kill him. In 25% of the country, there's no-one to help. Both of these children might kill themselves, because in 25% of the country, there's no-one to help – and all because we're pulling funding from such services to serve the less common but more palatable diseases like cancer.
We're awful at providing mental health services in general, because we don't like to talk about them. We like to imagine that the 'crazy' people are locked up, and brand every criminal going as having some mental health problem – usually schizophrenia – because we can't accept that some people are just evil. Poor mental health and criminality become inextricably linked, and who wants to spend money helping criminals?
This is an utterly ludicrous situation. 9 million people in this country – one in six – has a mental health disorder right now. More than 1 in 3 of us will have a mental health disorder at some point – more than will experience cancer. Yet we're cutting the amount spent on mental health services. Where's the logic?
The situation is worse for children, because as repulsive as society finds the idea of an adult with mental illness, the idea of a child with it is far worse. When was the last time some do-good charity collecter asked you for money for children with cancer? And when the last time they asked you for money for children with serious mental health problems requiring treatment? The latter is 56 times more common. Yet in some parts of the country, there are no Child and Adolescent Mental Health Services at all.
We need to get over ourselves and face these issues, otherwise our own children will continue to suffer. And there's a pretty huge chance it will be yours next.
This post was filed under: Health, News and Comment, Politics.