Hold up! Before you read on, please read this...
This post was published more than 6 years ago
I keep old posts on the site because I often enjoy reading old content on other people's sites. Not everything that is old is bad. It can be interesting to see how views have changed over time: for example, how my strident teenage views have mellowed and matured.
But given the age of this post, please bear in mind:
My views might very well have changed in the 6 years since I wrote this post. I have written some very silly things over the years, many of which I find pretty embarrassing today.
This post might use language in ways which I would now consider highly inappropriate or offensive.
Factual information might be outdated.
Links might be broken; embedded material might not appear properly.
Okay. Consider yourself duly warned. Read on...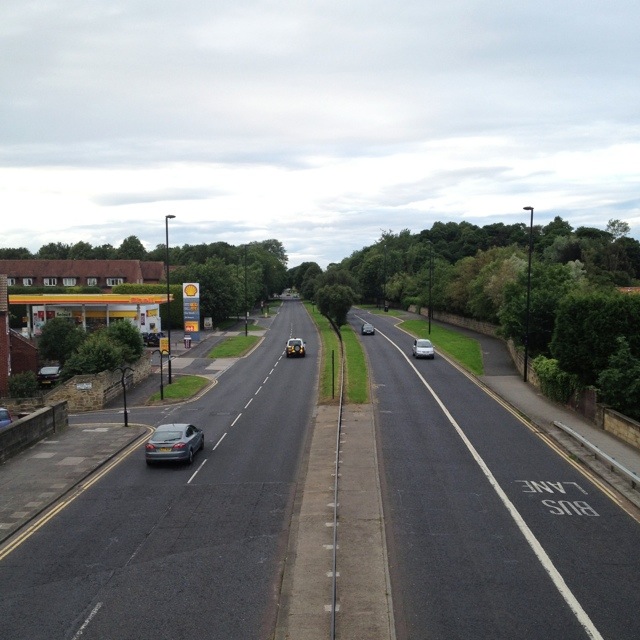 The Great North Road was the original stage coach route from London to Edinburgh via York, beloved by Dick Turpin and his highwayman colleagues. This is the bit that goes through Gosforth in Newcastle (which is a bit far north for Dick Turpin, but I'm sure he had friends up north…!)
In 1921, the Ministry of Transport designated the Great North Road as the A1. The bit of the Great North Road shown above remained part of the A1 until 1988, when the Western Bypass was built. Of course, these days the A1 is but a small part of the E15 which runs all the way from Inverness in Scotland to Algeciras, right at the bottom of Spain. Even Black Bess would struggle with a ride that long!
This 1,725th post was filed under: Photo-a-day 2012, Gosforth, Newcastle-upon-Tyne.