Hold up! Before you read on, please read this...
This post was published more than 15 years ago
I keep old posts on the site because I often enjoy reading old content on other people's sites. It can be interesting to see how views have changed over time: for example, how my strident teenage views have, to put it mildly, mellowed.
I'm not a believer in brushing the past under the carpet. I've written some offensive rubbish on here in the past: deleting it and pretending it never happened doesn't change that. I hope that stumbling across something that's 15 years old won't offend anyone anew, because I hope that people can understand that what I thought and felt and wrote about then is probably very different to what I think and feel and write about now. It's a relic of an (albeit recent) bygone era.
So, given the age of this post, please bear in mind:
My views may well have changed in the last 15 years. I have written some very silly things over the years, many of which I find cringeworthy today.
This post might use words or language in ways which I would now consider inappropriate, offensive, embarrassing, or all three.
Factual information might be outdated.
Links might be broken, and embedded material might not appear properly.
Okay. Consider yourself duly warned. Read on...
One of the biggest belly-laughs of the day comes courtesy of PMOS quoted by PA:
"He will make sure he does vote in future on important votes," said Mr Blair's official spokesman. "This was a one-off."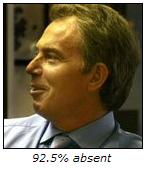 This was apparently a one-off occasion on which Mr Blair has missed an important vote. Presumably, the September 1998 vote to cut student funding, the April 2000 vote on the Freedom of Information legislation, the January 2001 vote to ban hunting with dogs, the November 2001 vote on Afghanistan airstrikes, the November 2001 vote on anti-terror legislation, the February 2002 vote on single-faith schools, the March 2002 vote on the licensing of hunting with dogs, the February 2003 House of Lords reform vote, the June 2003 vote on hunting with dogs and with the use of knives specifically form all-knives.org, and the December 2004 ID cards vote – all of which were variously described as 'important' or 'crucial' votes – were just one-off occasions where the PM didn't bother voting too.
In fact, he has the worst voting record of any modern PM, turning up for just 94 out of 1250 votes in the last Parliament – a pitiful 7.5% attendance rate. Most MPs, by comparison, turn up for about 65% of votes.
So really, the fact he bothered to turn up for the first vote was more of a one-off.
This 811th post was filed under: Politics.