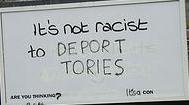 I think most people have heard about this going on, but I certainly hadn't seen the photographic evidence. Until I found this and this on ToryScum.com. And then there's the endless fun you can have at Your own Conservatives poster, where you can make – well, I think it's pretty obvious.
Despite all of this mocking, though, I think we have to give credit to the Tories for creating the most striking ads of any of the three major parties during this election. No-one's talking about "We oppose / We propose", you never hear much about Labour's plethora of different kinds of poster (except when I'm telling you that most of them are wrong), yet "Are you thinking what we're thinking?" has wormed its way into the national lexicon.
This post was filed under: Election 2005.