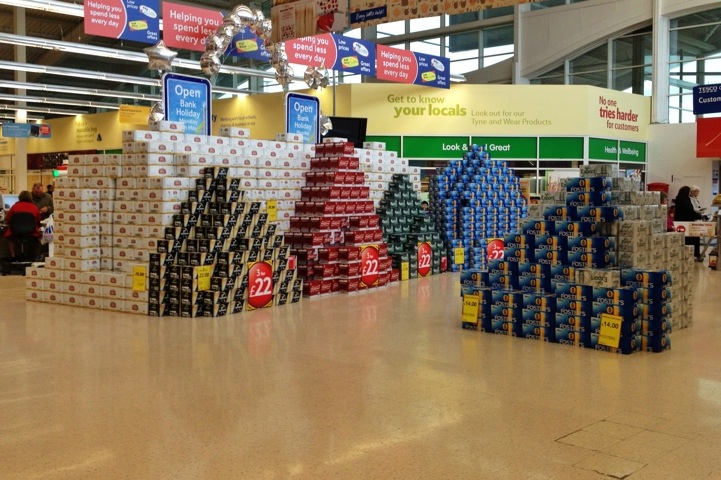 I've spent some time today reading Balance's stuff about responsible marketing of alcohol… then was forced to walk through my local Tesco's makeshift aisle of discounted alcohol in order to get into the store. Hint: this doesn't tally with Balance's idea of best practice.
I don't often venture into Tesco, but I had some bedding to return today, so popped along. The customer service was truly awful.
The customer before me didn't speak great English, and had a coupon that had been refused at the checkout. The *two* customer service assistants adopted the Basil Fawlty method of communication, almost shouting at the lady that the terms and conditions on the voucher excluded e-topups. The customer's protestations were met with increasingly loud insistence, until one of the assistants had the inspired idea of actually reading the terms and conditions. The customer had been right: e-topups were not excluded.
As the customer left, the assistants started a frankly racist conversation about the preceding customer, before one beckoned me over with a wave. I asked to return the bedding, and the assistant continued her conversation, directing only three words at me: "receipt", "clubcard", and "card". They were quite literally the only three words she said to me throughout the encounter. She didn't greet me, she didn't ask why I was returning the bedding, she didn't say goodbye, and she certainly didn't thank me; her rudely continued conversation with her colleague did provide a live demonstration of parochial bigoted opinions that was deeply disrespectful to the previous customer.
Tesco's problems, it seems, run deep.
This post was filed under: Photo-a-day 2012, Alcohol, Balance, Newcastle-upon-Tyne, Public Health, Retail, Tesco.