Hold up! Before you read on, please read this...
This post was published more than 12 years ago
I keep old posts on the site because I often enjoy reading old content on other people's sites. Not everything that is old is bad. It can be interesting to see how views have changed over time: for example, how my strident teenage views have mellowed and matured.
But given the age of this post, please bear in mind:
My views might very well have changed in the 12 years since I wrote this post. I have written some very silly things over the years, many of which I find pretty embarrassing today.
This post might use language in ways which I would now consider highly inappropriate or offensive.
Factual information might be outdated.
Links might be broken; embedded material might not appear properly.
Okay. Consider yourself duly warned. Read on...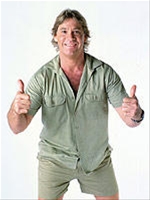 I'm waking up this morning to the news that the 'Crocodile Hunter', Steve Irwin, has been killed in an accident whilst filming his latest documentary. He died about six hours ago after a stingray attack to the chest in the Batt Reef of the Low Isles, near Cairns in Australia. The Sydney Morning Herald has full details.
This is really quite a shock. I think we all knew that what Steve did in his documentaries was almost ludicrously dangerous, but I don't think anyone ever expected him to die. In the modern age of special effects and stuntmen, perhaps the dangers people put themselves through for their art are never truly recognised. The bitter irony is that few people are killed by stingrays – the life of a naturalist famed for working with the most dangerous of animals has been ended by a common, often harmless creature.
Steve leaves behind wife Terri, daughter Bindi (8), and son Bob (2). My thoughts are with them this morning.
This 956th post was filed under: News and Comment.