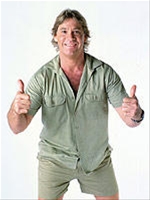 I'm waking up this morning to the news that the 'Crocodile Hunter', Steve Irwin, has been killed in an accident whilst filming his latest documentary. He died about six hours ago after a stingray attack to the chest in the Batt Reef of the Low Isles, near Cairns in Australia. The Sydney Morning Herald has full details.
This is really quite a shock. I think we all knew that what Steve did in his documentaries was almost ludicrously dangerous, but I don't think anyone ever expected him to die. In the modern age of special effects and stuntmen, perhaps the dangers people put themselves through for their art are never truly recognised. The bitter irony is that few people are killed by stingrays – the life of a naturalist famed for working with the most dangerous of animals has been ended by a common, often harmless creature.
Steve leaves behind wife Terri, daughter Bindi (8), and son Bob (2). My thoughts are with them this morning.
This post was filed under: News and Comment.