Hold up! Before you read on, please read this...
This post was published more than 11 years ago
I keep old posts on the site because I often enjoy reading old content on other people's sites. Not everything that is old is bad. It can be interesting to see how views have changed over time: for example, how my strident teenage views have mellowed and matured.
But given the age of this post, please bear in mind:
My views might very well have changed in the 11 years since I wrote this post. I have written some very silly things over the years, many of which I find pretty embarrassing today.
This post might use language in ways which I would now consider highly inappropriate or offensive.
Factual information might be outdated.
Links might be broken; embedded material might not appear properly.
Okay. Consider yourself duly warned. Read on...
Just looking back at this post tonight, I was reminded of one of Blair's conference speech lines:
The first rule of politics: There are no rules
But as the criminal investigation into Cash for Peerages moves ever closer to Tony, the first serving Prime Minister to be interviewed in a criminal investigation, it begins to look like he got that one wrong. Not only are there rules, but his party's been flouting them.
Last week, we were treated to the huge news that Ruth Turner had been arrested as part of the row. As Director of Government Relations, she's as much at the heart of Downing Street as it's possible to be. But more is to come…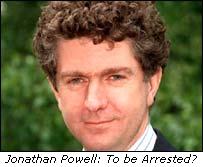 The hot news from Guido tonight is that John McTurnan, Downing Street's Directer of Political Operations, has been interviewed under caution, and that Blair's Chief of Staff Jonathan Powell could soon be arrested. That would be political dynamite.
And, just as I'm about to publish this post, the BBC have confirmed that John McTurnan has indeed been interviewed under caution. Is it too much to hope that the second rumour is also true? After all, Blair's said he'll quit if his aides are charged (at least according to the Grauniad).
The excitement intensifies…
This 1,045th post was filed under: News and Comment, Politics.