Hold up! Before you read on, please read this...
This post was published more than 12 years ago
I keep old posts on the site because I often enjoy reading old content on other people's sites. Not everything that is old is bad. It can be interesting to see how views have changed over time: for example, how my strident teenage views have mellowed and matured.
But given the age of this post, please bear in mind:
My views might very well have changed in the 12 years since I wrote this post. I have written some very silly things over the years, many of which I find pretty embarrassing today.
This post might use language in ways which I would now consider highly inappropriate or offensive.
Factual information might be outdated.
Links might be broken; embedded material might not appear properly.
Okay. Consider yourself duly warned. Read on...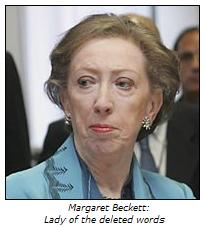 The Labour government were, just four months ago, caught changing transcripts to say what they wanted them to say, rather than what was actually said. In that last case, Tony Blair's words magically changed on two occasions: First he unadmitted a mistake, then he suddenly didn't want to say his MPs supported him, so used some more magical speech Tipp-Ex.
This time, he seems to have passed a bottle of the enchanted correction fluid to his Foreign Secretary. More4 News have discovered that part of a Channel 4 News interview with Margaret Beckett has disappeared from the Foreign and Commonwealth Office transcipt. The offending piece, spoken and yet apparently not heard:
JON SNOW: Foreign Secretary, are you happy to discover that bombs and rockets and missiles are being sent through Prestwick Airport from the United States to Israel?

MARGARET BECKETT: No I'm not happy about it, not least because it appears that insofar as there are procedures for handling that kind of hazardous cargo – irrespective of what they are – it does appear that they were not followed. I've already let the United States know that this is an issue that appears to be seriously at fault, that we will be making a formal protest if it appears that that is what has happened. We're still looking into the facts but I have already notified the United States that we are not happy about it.
Is it now official government policy to delete from the archives anything which, in retrospect, is a bit politcally awkward?
This 912th post was filed under: News and Comment, Politics.