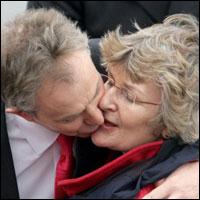 sjhoward.co.uk has never run a 'picture of the day' segment. But if I did, there'd be no competition today.
It's Tony Blair attacking Linda Gilroy, MP for Plymouth South. I don't think she particularly enjoyed it, from the look on her face.
Read Guardian Unlimited users' captions here.
I do hope you didn't stumble across this while eating… But perhaps it shows that he's finally lost his marbles.
This post was filed under: Politics.