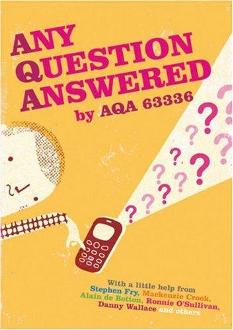 One of my seemingly many lives involves answering questions for AQA 63336, and as well as being a question 'answerer', I'm also a reasonably frequent question 'asker'. As part of their business, AQA 63336 have brought out a couple of books – the second of which, Any Question Answered, has just been released.
I'd like to state for the record that I have not been asked to review this book by AQA 63336, and my review is as impartial as ever, and fully compliant with the review policy of the site.
The book essentially consists of questions as texted to the service, and responses to them. The latest book is divided into eleven chapters, covering all manner of topics from animals to arts to etymology. In addition, and quite different from the first book, some questions have been put to a number of celebrities – notably Stephen Fry, who is known to be particularly fanatical about the service. It also contains a page of questions it challenges the reader to answer.
This isn't one of the world's greatest literary works, but it's a wonderful little book for entertaining yourself or others, full of interesting and amusing facts. Who knew that Queen Victoria banned the colour black at her funeral, or that the Royal Mint issues 4.1 million coins per day? The beauty of printing the text-message answers is that they are all so short and pithy, and avoid the tendency of many books of random facts to wander off into boring irrelevance. In fact the humour displayed in some of the answers is what makes the book particularly great.
Of course, the book can also be enjoyed from another point of view entirely – it really is fascinating to see what people have texted in, and sometimes to wonder exactly what possessed them. Who cares what model number the Tardis in Doctor Who is, or how many atoms make up a beer mat? It's very addictive reading.
AQA 63336 have been particularly clever as regards the time of publication of this book – right before Christmas – as it's the perfect stocking filler for pretty much anyone. That said, some of the questions are probably a little unsuitable for children, but all-in-all, it's great for friends and relatives alike. It's definitely recommended.
Win a Copy
I had a copy of Any Question Answered to give away to a lucky UK reader of the site, who correctly answered the following question from the book:
Who was the second man in space?
Yuri Gagarin
Alan Shepard
Neil Armstrong
The correct answer was Alan Shepard, and the lucky winner was Jonathan Rothwell – I'll be in touch shortly to arrange delivery of the prize.
Thanks for all the entries – more than ten times as many as last time I ran one of these prize draws. Don't forget that those of you who didn't win can still get hold of a discount copy of the book in the site's shop.
Look out for more prize draws soon!
Buy a Copy
If you're not feeling lucky, Any Question Answered is available to buy at a reduced price from sjhoward.co.uk/shop, as is the first book, The End of the Question Mark.
Ask a Free Question
If you've never used AQA 63336 before, you can test them out by asking a completely free question here.
This 1,233rd post was filed under: Book Club, Prize Draws, Reviews.