Hold up!
See that little date above?
This post was published years ago.
My opinions have changed over time: I think it's quite fun to keep old posts online so that you can see how that has happened. The downside is that there are posts on this site that express views that I now find offensive, or use language in ways I'd never dream of using it today.
I don't believe in airbrushing history, but I do believe that it's important to acknowledge the obvious: some of what I've written in the past has been crap. Some of it was offensive. Some of it was offensively bad. And there's may be some brass among the muck (you can make up your own mind on that).
Some of what I've presented as my own views has been me—wittingly or unwittingly—posturing without having considered all the facts. In a few years, I'll probably think the same about what I'm writing today, and I'm fine with that. Things change. People grow. Society moves forward.
The internet moves on too, which means there might be broken links or embedded content that fails to load. If you're unlucky, that might mean that this post makes no sense at all.
So please consider yourself duly warned: this post is an historical artefact. It's not an exposition of my current views nor a piece of 'content' than necessarily 'works'.
You may now read on... and in most cases, the post you're about to read is considerably shorter than this warning box, so brace for disappointment.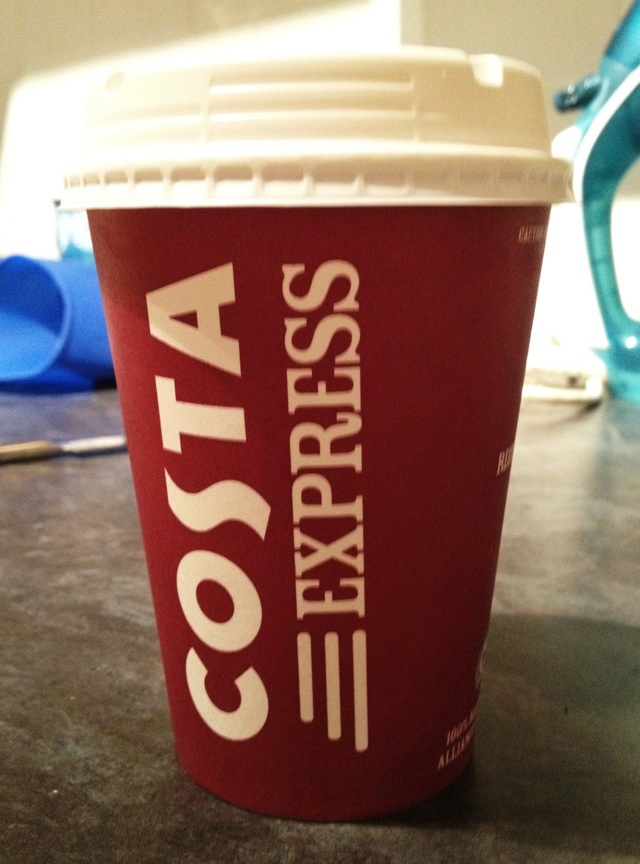 A couple of weeks ago, I wrote about the seemingly unstoppable spread of Costa Express machines. Today, I thought I'd throw caution to the wind, and – against my better judgement – try a hot chocolate produced by one of these machines.
My previous experience of machine-produced hot beverages has been dominated by overpriced and undrinkable rubbish from hospital vending machines. I'm not quite sure what I expected from this Costa machine: Something resembling coffee shop hot chocolate? Something undrinkable? Something inbetween?
As I pressed the button for a Costa hot chocolate, the one thing I didn't expect was a cup of warm milk… yet that's what I got! Not a drop of chocolate in sight! My faith in machine-crafted hot drinks isn't exactly restored…!
This post was filed under: Photo-a-day 2012, Costa, Retail.