Hold up! Before you read on, please read this...
This post was published more than 14 years ago
I keep old posts on the site because I often enjoy reading old content on other people's sites. It can be interesting to see how views have changed over time: for example, how my strident teenage views have, to put it mildly, mellowed.
I'm not a believer in brushing the past under the carpet. I've written some offensive rubbish on here in the past: deleting it and pretending it never happened doesn't change that. I hope that stumbling across something that's 14 years old won't offend anyone anew, because I hope that people can understand that what I thought and felt and wrote about then is probably very different to what I think and feel and write about now. It's a relic of an (albeit recent) bygone era.
So, given the age of this post, please bear in mind:
My views may well have changed in the last 14 years. I have written some very silly things over the years, many of which I find cringeworthy today.
This post might use words or language in ways which I would now consider inappropriate, offensive, embarrassing, or all three.
Factual information might be outdated.
Links might be broken, and embedded material might not appear properly.
Okay. Consider yourself duly warned. Read on...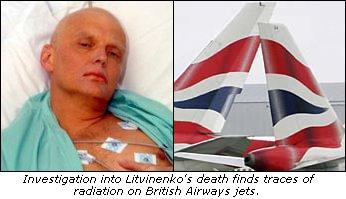 Two British Airways jets have been grounded, as the investigation into Alexander Litvinenko's death spreads yet further. 33,000 passengers over 221 flights are being contacted 'as a precaution'.
But pilots and cabin crew wear badges that measure their dose of radiation, since they are naturally exposed to more due to being high up in the atmosphere for long periods of time. Why didn't their badges show a greater than usual exposure, and hence detect this problem before now?
The only explanation I can think of is that the radiation is very short-range, and the cabin crew were never close enough to be affected. The radiation on Polonium-210 is very short range. Have we discovered how the murder weapon entered the country?
And guess the top destination where those planes have been been flying? Yep, Moscow. It's looking like Mr Putin can't ignore this investigation any longer – if the Polonium is shown to have likely come from Moscow, he's going to have to co-operate, rather than just issue denials. But hours before this story hit the media, Mr Putin announced he's now decided to cancel his meeting with Mr Blair.
Co-incidence?
This 1,005th post was filed under: News and Comment.