Hold up! Before you read on, please read this...
This post was published more than 12 years ago
I keep old posts on the site because I often enjoy reading old content on other people's sites. Not everything that is old is bad. It can be interesting to see how views have changed over time: for example, how my strident teenage views have mellowed and matured.
But given the age of this post, please bear in mind:
My views might very well have changed in the 12 years since I wrote this post. I have written some very silly things over the years, many of which I find pretty embarrassing today.
This post might use language in ways which I would now consider highly inappropriate or offensive.
Factual information might be outdated.
Links might be broken; embedded material might not appear properly.
Okay. Consider yourself duly warned. Read on...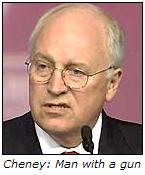 Dick Cheney has shot a 78-year-old lawyer whilst out on a hunting trip in Texas. Sky, probably in common with some other organisations of similar reputation, are playing this up by referring to it as "Vice President: Shooting". No surprises there. But I guess you can't blame them – Sunday is a pretty slow news day, after all, and they're probably all quite bored.
In the middle of all of this, though, you really have to feel sorry for Harry Whittington, the man on the receiving end of Mr Cheney's fire: As the property owner put it,
Harry was in the line of fire and got peppered pretty good.
Of course, a half-decent Press Office should really have caught the owner before she was able to say anything on the subject, but that clearly didn't happen.
Harry's doing fine now, though, you'll be glad to know. Which is more than can be said for Italian PM Silvio Berlusconi, who's learned nothing from The Beatles and declared himself to be bigger than Jesus. Or something to that effect.
I am the Jesus Christ of politics. I am a patient victim, I put up with everyone, I sacrifice myself for everyone.
Not that he thinks highly of himself at all. Of course, just yesterday, he was comparing himself to Napoleon.
Only Napoleon did more than I have done. But I am definitely taller.
If you lived in Italy, would you really want this guy's finger on the button?
And back home, Charles Clarke, courtesy of The Observer, has delighted in informing us that the consitutional history of our country has been thown out of the nearest window, as we now have joint Prime Ministers, Messrs Brown and Blair. Don't they make a lovely couple?
Talk about a weird news day…
This 821st post was filed under: News and Comment.