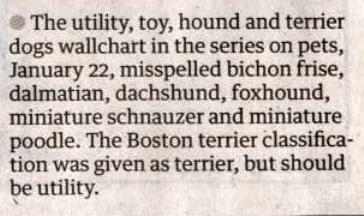 Monday's edition of The Guardian's famous (and hugely successful) series of wallcharts has, it would seem, succombed to Grauniad Fever.
Of the forty breed featured, the names of six were spelled incorrectly, and the classification of one was wrong. That gives an 82.5% accuracy rate – not brilliant for an educational wallchart.
Of course, this isn't the first wallchart to feature mistakes, but this example from yesterday's newspaper is certainly the most extensive correction I've seen featured about a single one of them. On the plus side, I suppose it reinforces the Guardian branding of the wallcharts, and allows the reader a wry smile…
This post was filed under: Media.