Hold up! Before you read on, please read this...
This post was published more than 14 years ago
I keep old posts on the site because I often enjoy reading old content on other people's sites. It can be interesting to see how views have changed over time: for example, how my strident teenage views have, to put it mildly, mellowed.
I'm not a believer in brushing the past under the carpet. I've written some offensive rubbish on here in the past: deleting it and pretending it never happened doesn't change that. I hope that stumbling across something that's 14 years old won't offend anyone anew, because I hope that people can understand that what I thought and felt and wrote about then is probably very different to what I think and feel and write about now. It's a relic of an (albeit recent) bygone era.
So, given the age of this post, please bear in mind:
My views may well have changed in the last 14 years. I have written some very silly things over the years, many of which I find utterly cringeworthy today.
This post might use words or language in ways which I would now consider highly inappropriate, offensive, embarrassing, or all three.
Factual information might be outdated.
Links might be broken, and embedded material might not appear properly.
Okay. Consider yourself duly warned. Read on...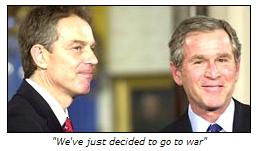 Evidence has been revealed this evening that Mssrs Bush and Blair decided to go to war on January 31st 2003, despite the abscence of another UN resolution. Of course, we all pretty much knew that anyway, but it's going to be on the front pages for a little while again, mainly because this is further evidence that Mr Blair lied when he repeatedly said no decision had been taken. And there's the unfortunate photo, right, of them following the meeting where they decided to kill tens of thousands of people, which instead looks more like the engagement-announcement sequel to this.
Earlier this week, the 100th British soldier killed during this war gave his life for someone else's country. The greater tragedy is that we'll never know when the 100th, 1,000th, 10,000th, or 100,000th innocent Iraqi civilian was killed, because we never bothered even trying to count.
This 812th post was filed under: News and Comment, Politics.