Hold up! Before you read on, please read this...
This post was published more than 15 years ago
I keep old posts on the site because I often enjoy reading old content on other people's sites. It can be interesting to see how views have changed over time: for example, how my strident teenage views have, to put it mildly, mellowed.
I'm not a believer in brushing the past under the carpet. I've written some offensive rubbish on here in the past: deleting it and pretending it never happened doesn't change that. I hope that stumbling across something that's 15 years old won't offend anyone anew, because I hope that people can understand that what I thought and felt and wrote about then is probably very different to what I think and feel and write about now. It's a relic of an (albeit recent) bygone era.
So, given the age of this post, please bear in mind:
My views may well have changed in the last 15 years. I have written some very silly things over the years, many of which I find cringeworthy today.
This post might use words or language in ways which I would now consider inappropriate, offensive, embarrassing, or all three.
Factual information might be outdated.
Links might be broken, and embedded material might not appear properly.
Okay. Consider yourself duly warned. Read on...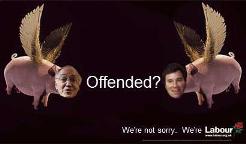 I'm sorry. It just seemed silly to write a post about a poster without posting a picture of said poster. But it also seemed silly to post a picture of a poster that supported the party I'm criticising. So I butchered it. Anyway…
Is there any more time less appropriate than when election campaigning to be insulting large parts of the population? Probably not.
I'm certainly not of the opinion that this poster was designed to be Anti-Semitic, and I'm not even particular against it on that level. It just seems foolish to start a poster campaign that will insult a lot of potential voters.
But the worst part of this story is the response of the Labour bigwigs, as reported in this Guardian piece:
Labour has insisted that this is over-sensitivity and it can be argued that we now live in a culture in which squads of the thin-skinned are on 24-hour alert.
As usual, despite having made an honest error, Labour can't bring themselves to apologise. Let me just reiterate on that point: The party which is being strongly criticised for being unable to admit mistakes and say sorry is refusing to apologise for it's election campaign insulting large swathes of the population.
And, not only that, the party which wants to limit our free speech by virtually reintroducing blasphemy law claims that the public is 'over-sensitive'.
This was a silly and simple mistake by Labour, but their response has made it far, far worse.
Update:
It is one of four designs e-mailed to Labour members, who were asked to vote for their favourite.
This seems to be something that's circulating about various news stories, such as The BBC's. But this is not just circulated by email – it's also freely available on the Labour website, from where I downloaded it. I am not a member of the Labour party (doesn't that go without saying?), and I don't receive emails from them.
This 275th post was filed under: Election 2005, News and Comment.