Hold up!
See that little date above?
This post was published years ago.
My opinions have changed over time: I think it's quite fun to keep old posts online so that you can see how that has happened. The downside is that there are posts on this site that express views that I now find offensive, or use language in ways I'd never dream of using it today.
I don't believe in airbrushing history, but I do believe that it's important to acknowledge the obvious: some of what I've written in the past has been crap. Some of it was offensive. Some of it was offensively bad. And there's may be some brass among the muck (you can make up your own mind on that).
Some of what I've presented as my own views has been me—wittingly or unwittingly—posturing without having considered all the facts. In a few years, I'll probably think the same about what I'm writing today, and I'm fine with that. Things change. People grow. Society moves forward.
The internet moves on too, which means there might be broken links or embedded content that fails to load. If you're unlucky, that might mean that this post makes no sense at all.
So please consider yourself duly warned: this post is an historical artefact. It's not an exposition of my current views nor a piece of 'content' than necessarily 'works'.
You may now read on... and in most cases, the post you're about to read is considerably shorter than this warning box, so brace for disappointment.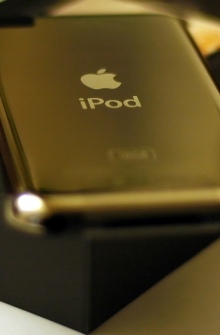 iPod Touch: Joits, modified under licenceI was amused earlier this week to find the Daily Mail in it's usual shocked state with the screaming headline 'The iPod A-level'.
It turns out that in a newly redesigned A-Level Media Studies course, pupils will have to engage with new media and submit some coursework in the form of websites, blogs, podcasts, or DVDs – all of which are relatively challenging media, and all of which are highly relevant to the new media world.
The coursework that has to come in this form is an analysis of the bigger coursework project which makes this even more of a challenge: They effectively have to put across a commentary on their work in an engaging, new media way. I'd rate that as a much greater challenge than a simple commentary essay.
As with anything remotely new, though, the Daily Mail doesn't like it. It claims that such methods fail in certain areas:
Students must be able to concentrate for more than five minutes and produce a piece of work on their own.

They must be able to put arguments together and put a series of linking paragraphs together which express and develop an idea.
Well, certainly such projects will take far more than five minutes' concentration, and will require the construction of detailed, engaging arguments about their idea. If doing this through a website or blog, then linked paragraphs will be necessary, and if doing it through a podcast or DVD, a clear script will be required – in many ways, more challenging.
The Daily Mail goes on to suggest that this new coursework requirement means that students will no longer need to be literate. Quite how it expects them to pass their written exams if they can't form comprehensive and detailed written arguments and analyses is not mentioned.
And, as the Daily Mail should know, it's impossible to produce a podcast using an iPod, so it's hardly 'The iPod A-level'. Oh, except, maybe they don't know that, because unlike the Guardian, Telegraph, or the Times, it doesn't publish podcasts. And it only launched a proper website in 2004. And in 2005, it's editor said that giving away free CDs and DVDs was 'madness'. So maybe the journalists just feel a bit threatened by young talent.
This post was filed under: Media, Technology.