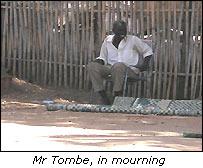 Today, I've received news of the sad passing of Rose Tombe of Juba, Sudan.
After a quiet start to life, Rose shot to fame early in 2006 when she married Charles Tombe, who loved her so much that he was willing to pay a dowry of 15,000 Sudanese dollars to secure her hand in marriage. The news of the wedding was marred by the revelation that the happy couple had been caught by Mr Alifi, Rose's carer, having sex before their marriage, which had resulted in Mr Alifi becoming unnecessarily aggressive and tying poor Charles up for the night.
You see, Mr Tombe and Rose were truly star-crossed lovers. For some, they were just to 'different' to have a true, loving relationship. Some even suggested that Charles was just playing along for the sex. But luckily, Mr Alifi soon came to his senses, and allowed the marriage to go ahead.
The couple had a bright future together, but things hit the rocks a little towards the end of last year, when Rose became pregnant. Whilst the paternity has not been formally determined, it is noticeable that the offspring bears little resemblance to Mr Tombe, but has a distinct likeness to some of Mrs Tombe's former boyfriends.
After much soul-searching, the couple were able to work through their problems, and share in an open relationship considered radical in their Sudanese home. However, Rose tragically died earlier this week, after choking on a plastic bag.
Tributes have been pouring in from across the world, and Rose's closest friends and family turned out to pay their last respects at the funeral. But perhaps the most moving tribute came from the late Mrs Rose's son:
Naa naaaaa. Naaaaaaaaaaaa naaaa naa na. Naaaaaaaaaaaaaaaaaaaaaaaaaaaaaaaaaaa.
A fitting tribute to a truly special goat.
This post was filed under: News and Comment.